Estimated reading time: 10 minutes
The procurement process for logistics services is very complex for many companies. Our industry leaders are sharing their best procurement practices for logistics services to help businesses make the process as efficient as possible.
Save on Cost with Service-Oriented Solutions
Hiram Hartnett, Executive Vice President of Sales
I've been in the business of logistics services for over 25 years now and I've seen a theme's of "low cost is the winner" in many procurement practices. Everyone wants freight cost reductions, so common sense would say to look for ways to reduce overall spend, though this is not always the best path. What's on paper is sometimes an illusion.
We often see rigid, out-of-scope contract situations that don't work for the client or the logistics service providers. Clients will get aggressive pricing when they put out a bid, and then they end up booking loads that don't get covered, resulting in them calling a company like ours at the last minute.
When they call us last minute, they end up not only paying more than their bid rate, but they also have to pay more for us to rescue those loads. Since it costs us more to do that, the customer ends up paying more if they calculate the bigger picture. A collaborative approach early on may have resulted in a more measurable, service-oriented solution that our team knew we could achieve, it would make a critical difference for the customer. Starting the process this way ends up being a win-win for them.
Heath Shoemaker, Chief Operating Officer
Asking questions about the cost can help our clients develop a reasonable budget. What is the overall cost in terms of a percentage of profits? What budgetary items could be used to substantiate expenses? What are shareholders looking for in terms of brand awareness? These answers can help clients arrive at a newer, less conventional way to be more creative in procuring.
The traditional process is that businesses have to first get a price, and it needs to be cheaper than last year. But often, that sullies the value of what they are trying to deliver to their clients. The critical question, then, is whether or not clients are getting the value they're paying for.
Dennis Stanley, Vice President of Business Development
We've begun to see clients look at market benchmarking, market indices, or market trends and analysis. Again, this may seem somewhat cost-focused, but only on the surface. It helps us put that cost issue not aside but in its own compartment where it needs to be so that clients can move on and work on other total cost issues, cost avoidance projects, or other things like that.
But if the procurement team can go to management or their board and say that they've validated cost against an industry or market trend, we can build some walls around that and move on. Then we can talk about how we serve the customer and how we serve the client's customer by meeting their critical KPIs.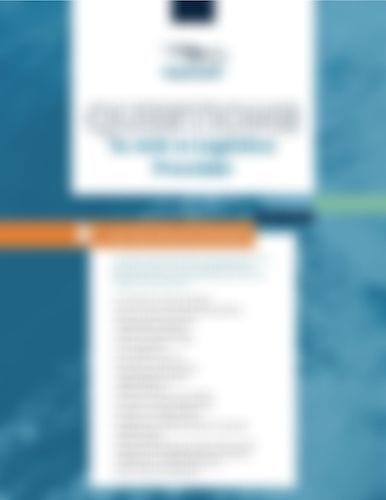 Want questions to ask your logistics provider?
Click the button below to get a list from our logistics team.
Collaborate with Operations and Partners
Hiram Hartnett, Executive Vice President of Sales
A better way to focus on cost could be through a collaborative approach to understanding the sequence of events associated with a given transaction or service offering.
One of the old philosophies around procurement was that collaboration is weak. People thought it was best not to show their cards because they're giving up too much information if they did—they're giving spades out to the other side that could give them a competitive edge to win.
We see it completely the opposite. We want to understand what clients are trying to accomplish and deep dive into that scope of work to make sure what we bid will be a binding solution for us and the client.
We're not going to go out of scope. We're not going to choose not to participate or tell clients, "Just kidding, that doesn't fall into services." We want to provide a superior client experience every time, and we've had a good track record of doing just that.
Heath Shoemaker, Chief Operating Officer
We always use this collaboration to find a way to do something different. Is there a more efficient way to move things? Can we put the client on a routing guide? Can we institute something more conventional that meets service needs and hits the right price?
With collaboration, we can see how far up we need to go in the planning cycle to anticipate a need so we can avoid any roadblocks. We may ask if we can talk to the material planners or other relevant people. When we talk about collaborating, it's all about looking to see how far upstream we can go to mitigate some expectations about the cost of the service and what those costs mean.
We may not find the solutions right away. Maybe we need to talk to the planners or somebody else in the supply chain to help us mitigate some issues that may not conventionally be part of the communication process.
Dennis Stanley, Vice President of Business Development
One of the things we began seeing with some clients, particularly before the pandemic, was an alignment between operations and procurement. And by that, I don't just mean a defined set of RFP requirements or scope of work communicated by email and passed over the wall to another organization. Getting procurement and operations together in the same room to understand the nuances of what's going on makes it a lot easier for another supplier or us to come into the room to work through the solution.
Heath Shoemaker, Chief Operating Officer
Often, when I say collaborate, I'm not even talking about the client and us. Sometimes I talk about it starting with the client's internal groups. Are the business's service department, the business unit itself, the procurement department, and the upside all aligned to the same goals?
Is procurement solely incentivized by cost savings? Or are they incentivized by service? Would it change the client's opinion? We want to make sure that the collaboration starts on the same page before talking to the client.
We know we need to be competitive. We understand the market, but we want to deliver when it comes to service. Service expectations vary depending on the customer, so we do our best to accommodate different clients. It isn't easy, especially if that has not been part of the relationship with logistics partners in the past.
Communicate Internally
Dennis Stanley, Vice President of Business Development
We hear a lot about supply chain communication, transparency, visibility, etc. The natural tendency is to look from the inside to the outside or the outside to the inside. We've seen that many clients can find solutions when they look within their organization first. This can help in terms of scoping out what their requirements are between procurement and operations.
This results in a cleaner product and a cleaner transition to their partner, us, or whoever might be in that space. Once a program has achieved its success or is in the execution process, internal communication works well to share the best practices, best cost, or best ideas. Some of the clients we have are large, multi-division-type clients, and it helps out so much if there is collaborative success between those divisions and ourselves. If a client has streamlined communication internally, then the other divisions will be able to share information across the organization and, as a result, achieve scalability on costs that may occur in a more narrow frame. This type of communication will help the client and their procurement organization on many levels.
Align Your Cultures
Hiram Hartnett, Executive Vice President of Sales
Cultural alignment is a huge deal for us with organizations. We see every day that larger organizations want to be accountable to procurement. We've found that when clients tie purpose and cultural alignment into business equations, it helps people let their guard down. They see a more excellent stakeholder picture, which allows us to negotiate better with those customers—not by negotiating for a win-lose scenario but rather by negotiating together for the most optimal solution for all parties.
We spend an enormous amount of time defining and identifying what we deem as our ideal client. We approach that by deeply understanding the value we bring to all the fantastic clients we have today. We know that when we approach an opportunity, we are not putting ourselves in a bid-only procurement situation because we can speak specifically to the value we bring within the industry as a vertical, specific service. This process helps paint a better picture for clients.
Those procurement and operations leaders will then see potential value in the partnership and will be more inclined to collaborate with Pegasus. We also spend a lot of time, whether at a client event or connecting other stakeholders or clients, establishing new relationships, which builds immediate trust and gives us more credibility on the front end to deep dive into a win-win scenario.
Dennis Stanley, Vice President of Business Development
We look at our partner network in the same way. The business model relies heavily on our partner network and the need to have confidence in our partners' performance, competence, capacity, and consistency that we need to supply and support our client base. That confidence enables us to go forward to build solutions to bring our clients into a collaborative environment. In this open, transparent type environment, the client feels comfortable enough to develop the ideal solution.
Maintain Strong Partnerships
Dennis Stanley, Vice President of Business Development
Historically, things like preferred supplier agreements or sole source agreements had a negative connotation, even within operations teams and procurement organizations. An operations team might look at an agreement and wonder why they couldn't go with someone else. A procurement organization might also wonder why they can't change vendors or suppliers. But in our case, we've seen more comfort on both sides of the fence as they use a more preferred supplier, establishing more of a partnership approach and a strategic sourcing approach.
In the past couple of years, people have realized that if there are shortages of parts and raw material, it's not solved by flipping suppliers. That supplier is not going to find that part. A different supplier can't make that boat move any different on the water.
It's like the old phrase, "Dance with the one that brung ya." People are coming back to that and realizing there's some validity. The benefits of having a strategic alliance with operations and procurement make such a massive difference in the overall process, which companies have started to notice, making them look for reliable partners.
Often, the partner is likely going to be the first to come up with the solution or have an idea for the next big thing. A true partner will come up with the best ideas to save money. When a relationship like this is established, it brings so many more benefits that will help both parties navigate complex issues, such as shortages and logistics challenges. Not switching partners often but rather working with one partner to establish trust and confidence will deliver solutions that bring results.
Unfortunately, there are often people more comfortable in an RFP-type environment than in a win-lose type environment in the logistics space. We're very fortunate with the client base we have and the forward-thinking clients willing to work collaboratively to come up with solutions that are the leading edge and that will benefit both companies.
About Pegasus Logistics Company
We redefine the standards for time-definite transportation. We provide custom solutions and outstanding experiences by investing resources into team members, technology, and a superior transportation network. This approach frees us from an asset-heavy environment beholden to the push-pull mentality of multi-location facilities with large footprints in every market.
We have strategically positioned capacity available for your ever-changing supply chain. Our operational model has strict performance benchmarks, and we're focused on delivering your company the best value, efficient results, and the most reliable service.