Recently on a sales call, the client expressed an opinion that "all freight forwarders are the same." After hearing this, it immediately became my goal to disprove this theory. Having spent my entire career in logistics, I know that statement just isn't true. It is increasingly important for small and mid-size forwarders to create ways to set themselves apart in this competitive and growing industry. At Pegasus Logistics Group, we strive to be different and disprove this theory in our transportation network, sales and customer service teams, implementation and onboarding processes, and client and partner relationships.
One way we strive to be different than our competitors is by building a transportation network that serves our domestic and global clients by matching them with the best partners. Although many logistics providers utilize the same asset-based carriers, Pegasus develops a unique partnership that benefits both parties. We are committed to finding the best partners on each trade lane to suit our customer's needs. As well, we establish a network of dedicated international partners that provide our customers with the same quality of service as our domestic partners. We aim to work with companies that mirror the Pegasus philosophy of high-quality service and commitment to performance.
Our skilled and knowledgeable sales and customer service teams set us apart. The "right face" to a client is someone who carefully listens and desires to learn their supply chain to be able to address any challenges and pain points. Our sales team's goal includes educating the client on our capabilities and how we can best support the client's supply chain by building the most valuable solutions to meet or exceed their expectations. Pegasus provides each customer a dedicated Account Team with years of expertise and built-in redundancy. Our teams pride themselves on owning the business throughout the lifecycle of an order and overcoming any logistics challenges. They are the daily connection to our clients and have a significant impact on securing future business.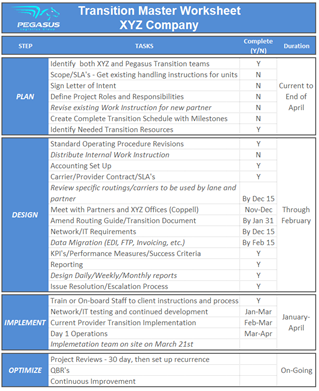 Our implementation and onboarding processes are another factor that makes us stand out. We understand that the cost of change is very important to customers; our belief is that the key part of any successful customer relationship begins at the implementation stage. To maintain long-term partnerships, it is essential to dedicate time and effort on implementation. We work in tandem with your team and document the necessary onboarding procedures for a seamless and successful transition.
At Pegasus, once we've established a trusted relationship with our client, we do not ever take it for granted. We strive to treat our customers like we did when we were first pursuing their business. We are always looking to "go wide" with those relationships by learning every aspect of their business and by finding ways to tightly link our two companies together. We believe that the more connection points we have, the more likely we are to sustain the partnership over the long run.
While it is true that all freight forwarders are tasked with moving cargo from point A to B, and that the same third-party assets are utilized (airlines, steamship lines, and trucking companies), freight forwarders are not all the same. At Pegasus Logistics Group, we are prepared to let our clients know why our company is not the same. We inform them of the ways we stand out over other forwarders and why we should be handling their cargo. Most importantly, we are committed to putting in the effort and doing what is necessary to consistently set ourselves apart from our competition.
Since 1994, we've worked tirelessly to serve our customers with excellence, take care of our employees, and make a difference in our community. If you are interested in more information on Pegasus, contact us at info@pegasuslogistics.com or visit our website.